Ransomware Recovery in Boca Raton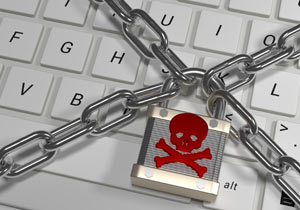 With over 300 million ransomware attacks in 2020 alone, and 6 ransomware attacks every minute in 2021, having the proper security and protection against would-be hackers is more important than ever. Each year, thousands of organizations find themselves at the mercy of ransomware attackers, and this trend is likely to continue for the foreseeable future.
Ransomware can be devastating for businesses of all sizes, from small business owners to giant corporations. Not only can ransomware severely limit your employees' productivity, but important files and data can be locked. Hackers will demand money, often thousands of dollars in the form of cryptocurrency, before your files are unlocked. They will also threaten to release your data to the dark web if you DON'T pay.
However, even if you were to pay these attackers, there's a chance your data might remain locked. Before you engage with your attacker, contact cybersecurity experts who have experience in dealing with ransomware attacks. The sooner you take action, the better you can minimize damage and loss, and the sooner you can get your company back up and running.
Mitigation & Cleanup
The first action that needs to be taken during a ransomware attack is to regain control of each compromised device and your business network.
Without ensuring the attackers are removed from the system, it can be difficult to run proper damage control and start the cleanup and restoration processes. Our team of specialists can run an in-depth analysis to discover exactly how your network was compromised.
Once we have this crucial information, we can start removing any vulnerabilities to ensure cybercriminals cannot access your network. Once the network is clear and back under control, our experts can locate the malware responsible for the attack and begin quarantining and disinfection.
Restoration
The recovery process can be arduous, but our team of cybersecurity experts can work on restoring your data and cleaning up the infection to minimize damage and recover as much information as possible.
With an in-depth analysis we can figure out exactly which files have been compromised and look at any possible options to restore your data.
While some ransomware is very destructive, there is a good chance that with the proper tools and technology we can recover locked information as part of our restoration service.
Prevention
The best way to deal with a ransomware attack is to avoid it in the first place. With proper training and a proper security solution set up to protect your network, you can help minimize the chances of becoming a victim.
A key measure to take to avoid potential ransomware attacks is to properly train each employee on security best-practices. Proper training and materials should be provided by cyber security professionals to ensure fundamentals are properly conveyed and understood.
Another crucial step is to secure each device to thwart attacks as they happen. The goal is to minimize the risk of an attack and at the same time minimize damage when an attack occurs. From implementing firewalls and monitoring tools, to locking down your applications, to ensuring only authorized users have access, we will make sure your risks are minimized.
With the proper safety measures in place, you can have peace of mind knowing your network and business is more secure against the ever-growing threat of digital crime.
How We Can Help
From cleaning your devices and network to securing applications, file recovery service, and ongoing protection, Blue Light IT can help with current and future ransomware attacks in a number of ways:
Quick Cleanup – If you're the victim of a ransomware attack, our team can get to work cleaning your system to stop further damage and loss from occurring in order to make the recovery process go as smoothly as possible.
Robust Recovery – While some files may be too damaged or encrypted to fully salvage, our team has experience resolving issues caused by ransomware and viruses, and we may be able to recover locked or deleted files due to attacks.
Ongoing Protection – A proactive approach to security is the best way to minimize risks associated with viruses and ransomware. With our managed services we can protect your software, hardware, and infrastructure, while securing access to your network.
Data Backup & Recovery – In addition to recovery and remediation, Blue Light IT can help with data backup services to create copies of your crucial data to help get up and running faster in the event of a ransomware incident in the future.
Better Compliance – Depending on what industry you're in, you may be required to follow specific processes and protocols to ensure compliance (such as HIPAA and PCI), which can help properly protect and secure private and sensitive customer/client information.
Peace of Mind – Knowing you have a team of specialists helping with all of your cyber security needs can help you breathe easier and let you focus on growing your business without worrying about digital attacks.
Contact Blue Light IT Today
If your business is under a ransomware attack, time is of the essence and quick action can help limit the damage caused and improve the chances of successful remediation. Resolving your ransomware issues should be your top priority should you find your organization under attack.
If you need virus removal or ransomware recovery in Boca Raton or South Florida, contact Blue Light IT today. Our team of experts will discuss your current situation and needs with you so we can get to work getting you back up and running as quickly as possible.
Once your problems are resolved, we can provide managed services for your company to help ensure each device on your network is secured around the clock, week after week, year after year so you can reduce your chances of becoming a victim to cybercrime in the future.