Cybersecurity in Boca Raton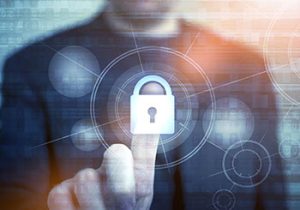 Cyber security should be a top priority for businesses in Boca Raton & South Florida. Small businesses and giant corporations alike are targeted daily by malicious actors who are hoping to exploit a vulnerability in security.
With a continual onslaught of ransomware, hacks, attacks, phishing emails, and data theft affecting companies all over the world each day, it's only a matter of time before your business becomes a target. As information technology (IT) continues to become more sophisticated, so do the cyber criminals looking to exploit this technology.
Blue Light IT's goal is to provide you with the cyber security protection you need to keep your company safe, while also keeping your unique needs and budget in mind. Our team can help stop cyber attacks, prevent cyber fraud, improve network security, and provide the materials needed to train your staff on how to minimize risk and keep your business safe.
Hacks & Attacks
With cyber threats such as malware and phishing attacks on the rise, it's more important than ever to ensure your company is secure. All it takes is one motivated hacker to breach your network and bring your day-to-day operations to a grinding halt.
Successful attackers can lock down your data and hold it ransom or destroy it, or they may release sensitive information about your clients to the world. Data breaches can result in large fines and/or downtime that can negatively impact your bottom line–something many small businesses can't afford to experience.
From security auditing to computer forensics, our team can detect cyber threats and stop cyber attacks in real time. Our goal is to provide high levels of service that you can count on to keep your company safe so you can continue focusing on your business.
Internal Threats
While network security and protecting your systems from outside threats is crucial, it's also important to prevent and watch for potential internal threats. Part of an effective cyber security strategy is ensuring all employees receive proper training and use best practices to better keep your network safe.
In addition to implementing the necessary security measures, our teams can help with training and internal control to ensure each employee has the knowledge they need to protect themselves and your company. We can be an internal auditor that looks for potential vulnerabilities, and work with you and your staff to rectify these potential issues before they become problems.
Proper internal control and policies can help reduce cyber fraud, reduce the chances of experiencing a data breach, and minimize downtime. Even simple strategies such as teaching staff how to watch for suspicious emails and avoid social media scams can make a huge difference when it comes to effective cyber security.
Compliance
Cyber security is an absolute necessity if your business takes credit cards or stores customer data and sensitive information. In addition to strict regulations required by HIPAA, SOC, PCI, and others, information security is important to protect yourself against potential liabilities. You need a team of cybersecurity specialists who understand these requirements and helps ensure you stay compliant and protected.
The managed services and solutions we provide can help with all of your security needs to bolster your network security and properly protect the sensitive data collected and stored by your company. With services like advanced endpoint protection and around-the-clock monitoring, you can rest easy knowing your data and the data of your clients is protected.
Disaster Recovery
For businesses that don't have the proper security in place, the threat of a disaster is very real. Our goal is to help every business in Boca Raton and South Florida secure their data before an attack, but unfortunately sometimes businesses don't realize their security is lacking until it's too late.
In the event your business has become the victim of a hacker or group of cybercriminals, all is not lost. The quicker you act, the better the chances of removing the threat, limiting damage, and protecting your data and crucial business assets.
A data breach is a serious issue, and data loss (through ransomware or other malware attacks) can cause a business to grind to a halt. A Blue Light IT cyber security analyst & specialist can assess the current damage, work to remove the threat, and help with recovery quickly.
Once your network is clean of threats, our team can help with auditing to uncover the extent of the damage suffered during the attack and help you recover quickly. Equally important, we can help secure your network and devices to help reduce the risks of future cyber attacks.
How Can We Help?
Blue Light IT specializes in protecting your information and your customers' data.
Evaluate – We will evaluate your current network and cyber security measures
Assess – We will analyze and provide a complete assessment of your overall security health
Implement – Implement a comprehensive security plan to provide the protection you need
Ongoing Managed Services – Our teams of cyber security experts will maintain your network's security
If you're looking for cybersecurity in Boca Raton or the surrounding area, contact Blue Light IT today to discuss your needs and goals. A friendly cyber security analyst will work with you to determine the best course of action to take to provide the solutions you need to reduce risk and properly secure your business.